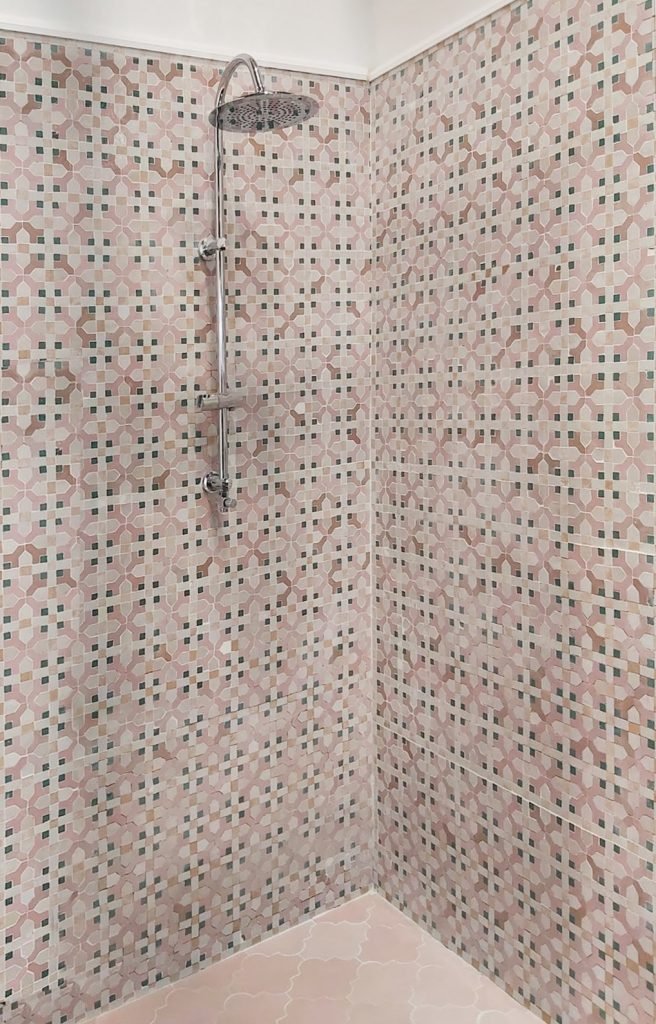 Traditional Moroccan hand-carved glazed terracotta is known as zellige. It is characterised by its irregular tone, gloss and texture. It gives all the spaces in which it is installed a unique and warm character. At Demosaica we adapt this material to both the most traditional and the most avant-garde designs.
Choose from the many formats we offer in zellige, individual pieces or pre-assembled mosaic tiles, which will help you to have the luxury of a handmade mosaic in your home with a much quicker and easier installation.
HANDCRAFTED PRODUCTION PROCESS
See all our models in stock, a colourful selection of zelliges available for immediate delivery.
Customise any of our zellige models and create your own design.
In this collection of photos you can appreciate the beauty and versatility of our zellige once installed in the different decoration projects of our clients. Bathrooms, swimming pools, stairs, passageways; outdoor and indoor environments, public and private, but always elegant and with an incomparable personality.
WHAT IS ZELLIGE?
Zellige is the glazed and hand-carved terracotta typical of Morocco. It is characterised by its irregularity in tone, gloss and texture. Demosaica offers zellige in both loose pieces and pre-assembled mosaic slabs.
CAN I CUSTOMISE MY ZELLIGE?
As a handmade product, the zellige is very adaptable to the designs of our customers, both in terms of patterns and colours. Let us know your project or idea and we will find the best solution for your zellige.
IS IT SUITABLE FOR PUBLIC AND COMMERCIAL SPACES?
We recommend installing zellige on wall coverings and not on the floor in high-traffic areas.
WHY CAN THERE BE SOME TONAL VARIATION?
All our products are completely handmade and therefore have variations in colour and tone, which is one of their main characteristics.
CAN COLOURS CHANGE OVER TIME?
Zellige, being a glazed product, will not undergo tonal variations over time.
IS TREATMENT NECESSARY?
Zellige tiles do not require sealing treatment as they are glazed.
IS SPECIFIC MAINTENANCE NECESSARY?
As a glazed product, zellige tiles do not require any specific maintenance.
HOW THICK SHOULD THE GASKET BE?
The joint between pieces of zellige should be as thin as possible.
CAN TINTED GROUT BE USED?
The use of tinted grout is not recommended for any of our products as it may cause irreversible staining of the tile surface; always use white grout.
CAN THEY BE INSTALLED OUTDOORS?
The zellige can be installed outdoors as long as there are no freezing temperatures, which could damage the enamel.
CAN THEY BE USED AS KITCHEN FRONTS?
Yes, one of the most common uses of zellige today is as a kitchen front.
CAN THEY BE USED AS CLADDING IN WET AREAS?
Zellige is suitable for wet areas such as fountains, swimming pools or showers.
CAN UNDERFLOOR HEATING BE INSTALLED UNDER DEMOSAICA MATERIALS?
Under the zellige it is also possible to install underfloor heating, but as it is enamelled, the heat transfer is not as effective as with other Demosaica materials.
HOW DO I INSTALL ZELLIGE PANELS?
The panels are designed to fit perfectly together. Once they have been installed in their final location, all the pieces must be grouted so that they are unified.
CAN I INSTALL MY ZELLIGE ON CURVED SURFACES?
Yes, we offer you the possibility of installing our pre-assembled panels on curved surfaces thanks to a flexible system by which the pieces are placed on a plastic film that helps to adapt the panel to your project. Do not hesitate to contact us to find the best solutions for your projects.